HISTORY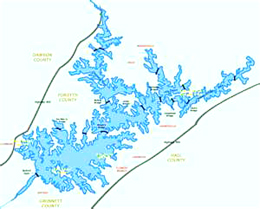 Founded in 1966, Lake Lanier Association is the oldest volunteer group working to protect the high water quality as well as the Lake Lanier water level and to preserve its valuable legacy for future generations. Lake Lanier Association is comprised of lake residents, individuals, families, businesses, boaters and fishermen dedicated to preserving the lake for future generations. Originally started as a group of homeowners, LLA has evolved and grown into a 4,500 member organization with a variety of programs supporting the mission of LLA.
Our membership base is now comprised of homeowners, local businesses, recreational users, and other lake related organizations interested in the economic and recreational aspects of Lake Lanier.
The Lake Lanier Association serves as the voice of citizens around the lake and across the region, striving to represent all aspects and users of the lake including wildlife, fish, homeowners and recreational users. The association seeks to use a balanced approach to protect Lake Lanier, recommending reasonable solutions to issues that affect the lake, such as water quality and water quantity.