ANNUAL MEETING
Saturday, March 19th, 2016, 4:00PM-7:00PM
Lake Lanier Association Annual Meeting at Port Royale Marina
Be sure to mark your calendar for the 2016 Lake Lanier Association Annual Meeting. If you were at the meeting last year, you know what a fun time it was.
Saturday late afternoon event at Pelican Pete's at Port Royale Marina
Drive by car, or by boat. If by boat, park at the courtesy dock at Port Royale.
The Lanier Crappie Anglers Club will be doing a FISH FRY as snacks for us. This is a really yummy way to experience Lake Lanier!
4:00PM-5:00PM will be a social hour and lake based vendor expo*. Cash bar will be available.
5:00PM-7:00PM food will be served and the official meeting will take place. The meeting agenda will include updates on the different lake based programs and services from the LLA.
There is no charge for Lake Lanier Association members to attend this event, but registration is required. Non-members are welcome to attend and encouraged to join the LLA at the meeting.
Registration is required for this event. To register in advance, click the below link:
Registration Link for 2016 Annual Meeting
*Current Lake Lanier Association business members are welcome to participate in the vendor expo at no charge, but you must RSVP to participate in the vendor expo. Send us an email at lakeinfo@lakelanier.org if you would like to be an exhibitor at the vendor expo.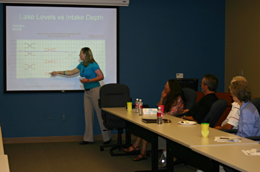 In the past we have taken advantage of having hundreds of our members in attendance and offered educational seminars on topics such as landscaping with native plants for lake-front properties with master gardener Pam Keene, Lake Lanier fishing techniques with professional fishing guide Ken Studivant, and boating safety with U.S. Coast Guard Auxiliary Public Education office Mike Atkinson. Some of our State Congressmen have joined us and addressed the group, as well.
LLA has enjoyed esteemed speakers in the past, such as Major General Todd T. Semonite, Commander, South Atlantic Division, US Army Corps of Engineers. As the guest speaker, he addressed issues related to the Apalachicola Chattahoochee Flint River basin (ACF) and to Lake Lanier's water levels.
We look forward to seeing everyone at our Annual Meeting and sharing valuable information.