4 New Life Jacket Loaner Stations Open for 2022 Season

4 New Life Jacket Loaner Stations Open for 2022 Season
PROGRAM UPDATE BY DAN OHMAN, DIRECTOR
The Lake Lanier Association is proud to announce the expansion of our Life Jacket Loaner Station program for 2022. We began this program in 2020 by launching two stations with the City of Cumming at the beach area of Mary Alice Park. In 2021, we doubled our effort by working with Forsyth County to add two additional stations at the boat ramp of Charleston Park, and at the beach area of Young Deer Creek Park.
For 2022, we are again doubling this Safe Lake initiative by adding four new stations. We are excited to announce a partnership with Hall County by adding three new loaner stations at the boat ramp areas of River Forks, Laurel, and Wahoo Parks. In addition, we worked with the City of Gainesville to add a new loaner station at the boat ramp area of Lake Lanier Olympic Park. All of the existing and new stations were fully stocked with Life Jackets in infant, child, youth, and adult sizes prior to the Memorial Day weekend. The LLA and our amazing group of volunteers manage the stations during the traditional lake season from Memorial Day through Labor Day, with weekly monitoring and restocking as necessary. After Labor Day, we won't be monitoring and restocking the stations, but people can continue to borrow and return any life jackets that may be available.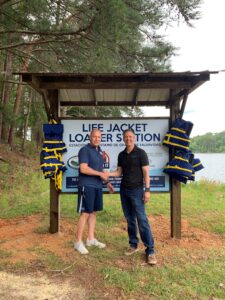 We have had many generous offers to donate life jackets, and would accept donations of life jackets (PFD's) in good condition at any of our loaner station locations during this time. Hooks are provided at the stations to hang the jackets. In addition, Friends of Lake Lanier accepts life jacket donations that support the 18 stations across the lake operated by the Corps of Engineers.
We continue to be grateful for the volunteer and sponsor support of this program. We would specifically like to thank The Ohman Family Foundation and one of our volunteers, Duane Fischer for the financial support of this program. For 2022, we are very pleased to have the partnership and great craftmanship of our new stations donated by Michael James Remodeling, and the materials donated by them and B&M Metals, Moore's Lumber and Hardware, and Builders FirstSource.

I would also like to recognize and appreciate the volunteers who were monitoring our stations and helping to make our lake a safer environment for people to enjoy. Those volunteers are:
Charleston Park – Al Petrangeli
Lake Lanier Olympic Park – Carol Wrape
Laurel Park – Carol Wrape
Mary Alice Park Beach – Duane Fisher
River Forks Park – Teresa and Bert Stanfield
Wahoo Creek Park – Danny Smith
Young Deer Park – Gregory Westbrook, Amanda and Becca Wade
Thanks to all of our volunteers for taking the time and effort to make a difference.
Our goal continues to be about creating awareness and availability that wearing life jackets saves lives. We want to preserve great times on the lake and prevent tragedies by making people aware of the importance of wearing life jackets as an integral part of their enjoyment of our beautiful lake both in and on the water (like wearing a seat belt in a car), and making life jackets available to those in need. The stations are designed and built to last, with large signage area on both sides that is bilingual and like a billboard to promote wear it awareness, and instructions on how to properly wear the jackets.
We will continue to look at expansion opportunities in the future for swimming and boat launch areas around the lake. Please contact us at [email protected] if you have an interest in volunteering to support the ongoing monitoring of these stations, or if you have personal or business sponsorship interest in financially supporting our ongoing stations and future expansion efforts.
Wearing life jackets saves lives. #WearIt