Excess algae growth in Lake Lanier can create water quality issues. At high enough levels it can create problems with drinking water as well as create issues for recreation. Due to these concerns, LLA initiated the Adopt-A-Lake Program in 2000 and has the most extensive Chlorophyll A (algae) testing program on Lake Lanier. Volunteers test 27 sites covering Lanier from Dawson County and the Rowing Venue to near Buford Dam. This program has created a year-round baseline understanding of the algae levels in multiple areas around the lake.
This testing program would not be possible without the volunteers who collect the samples and the support of Gwinnett County Water Resources who analyze the samples. We use the chlorophyll a result and the clarity reading of the water (Secchi readings) to create our Lake Lanier Index. The index does not indicate water safety, only the level of algae in the lake.
Water Clarity
Volunteers take Secchi readings by lowering a weighted disk into the water and measuring the maximum depth at which it can be seen, thus giving a gauge of clarity.
Temperature
Volunteers take temperature of air, as well as lake water at various depths.
Algae Accumulation
Volunteers fill water jugs and send them out to Gwinnett Water Lab for algae testing that defines the Lake Lanier Index. . This Index is a measure of Chlorophyll a (which determines nutrients levels) and clarity, NOT water safety.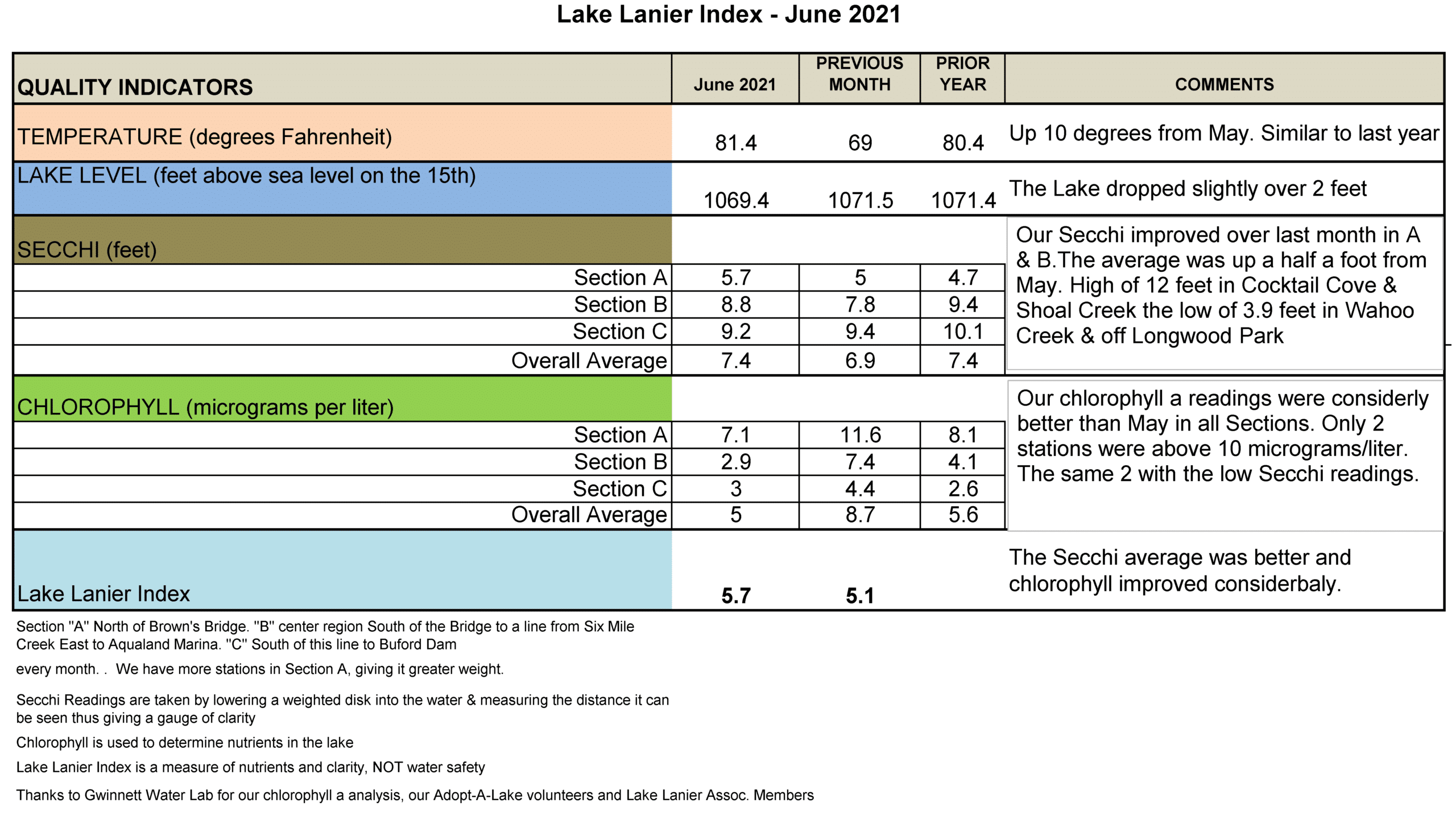 Report sections:
Section A = North of Brown's Bridge
Section B = center region South of the Bridge to a line from Six Mile Creek East to Aqualand Marina
Section C = South of this line to Buford Dam