Life Jacket Loaner Stations
Wearing life jackets saves lives. The purpose of the Life Jacket Loaner Station program is creating awareness and availability that wearing life jackets saves lives. We want to preserve great times on the lake and prevent tragedies by making people aware of the importance of wearing life jackets as an integral part of their enjoyment of our beautiful lake both in and on the water (like wearing a seat belt in a car), and making life jackets available to those in need. The stations are designed and built to last, with large signage area on both sides that is bilingual and like a billboard to promote wear it awareness, and instructions on how to properly wear the jackets.
Our hope is that by having life jackets available for borrowing and returning that we can help create a safer environment for people to enjoy the Lake Lanier experience. 
LLA Life Jacket Loaner Station Locations
Charleston Park – Boat Ramp
Laurel Park – Boat Ramp
Mary Alice Park – Beach and Boat Ramp
Olympic Park – Boat Ramp
River Forks Park – Boat Ramp
Shady Grove Park Campground – Beach
Wahoo Park – Boat Ramp
Young Deer Park – Beach
Where to Donate Life Jackets
Looking to donate new or gently used life jackets? Check out this list for drop off locations! Donated life jackets can be used at the various life jacket loaner stations around Lake Lanier. We greatly appreciate the support of the life jacket loaner stations and appreciate your donation.
Bald Ridge Marina

Gainesville Marina

Hideaway Bay Marina

University Yacht Club

Lanier Project Management Office 
Program History
2020 – LLA's Life Jacket Loaner Station program launched with two stations located at Mary Alice Park Beach.
2021 – LLA worked with Forsyth County to add two stations, Charleston Park Boat Ramp and Young Deer Creek Park Beach.
2022 – Partnership forged with Hall County and loaner stations added at the boat ramp areas of River Forks Park, Laurel Park, and Wahoo Parks. LLA also worked with the City of Gainesville to add a new loaner station to Lake Lanier Olympic Park Boat Ramp.
2023 – Two additional stations have been added to Mary Alice Park for a total of four at this popular destination (three loaner stations on the beach and one by the boat ramp). A third station was built at Shady Grove Campground Beach. This is a popular location for campers to swim, launching kayaks and other recreational activities – making it a great addition to the Life Jacket Loaner Station program.
Over the years, the program has grown and expands into multiple counties, cities, parks and boat ramp or beach areas. LLA is proud to bring a total of eleven life jacket loaner stations to the shores of Lake Lanier!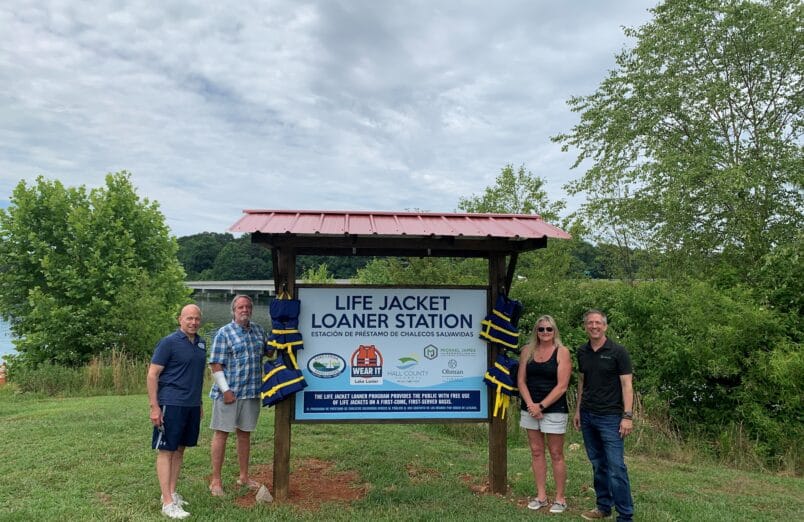 Volunteer Monitoring
All of the existing and new stations were fully stocked with Life Jackets in infant, child, youth, and adult sizes prior to the Memorial Day weekend. The LLA and our amazing group of volunteers manage the stations during the traditional lake season from Memorial Day through Labor Day, with weekly monitoring and restocking as necessary. After Labor Day, stations are monitored less frequently but people can continue to borrow and return any life jackets that may be available.
Donor & Sponsor Support
We continue to be grateful for the donor and sponsor support of this program.
We would specifically like to thank The Ohman Family Foundation and one of our volunteers, Duane Fischer for the financial support of this program. For 2023, we are very pleased to have the partnership and craftmanship of our new stations built by Michael James Remodeling.
We will continue to look at expansion opportunities in the future for swimming and boat launch areas around the lake. Please contact us at [email protected] if you have an interest in volunteering to support the ongoing monitoring of these stations, or if you have personal or business sponsorship interest in financially supporting our ongoing stations and future expansion efforts.
Life Jacket Loaner Stations Throughout the Years