Erosion and Sedimentation
Sediment or dirt from construction sites and shoreline erosion has reduced the storage capacity of Lake Lanier by 13.678 billion gallons. Dirt is often thought of as inert. It is found everywhere, so the addition to a body of water often seems like an aesthetic issue. However, this is far from the case.
Sediment not only reduces the storage capacity it also degrades the water quality of Lake Lanier. Construction sites across the Lake Lanier Watershed put sediment into area streams which transport it to the lake. This sediment negatively impacts the aquatic ecosystem from fish spawning habitat to choking out the insect populations that the fish rely on to eat. Additionally, once sediment reaches Lake Lanier, it releases phosphorus and other nutrients into the water column which contributes to the growth of algae in Lake Lanier.
LLA has created a multi-faceted initiative to address the sedimentation issues in the Lake Lanier Watershed from construction sites. Our three pronged approach includes effective regulations, enforcement and specific issue support.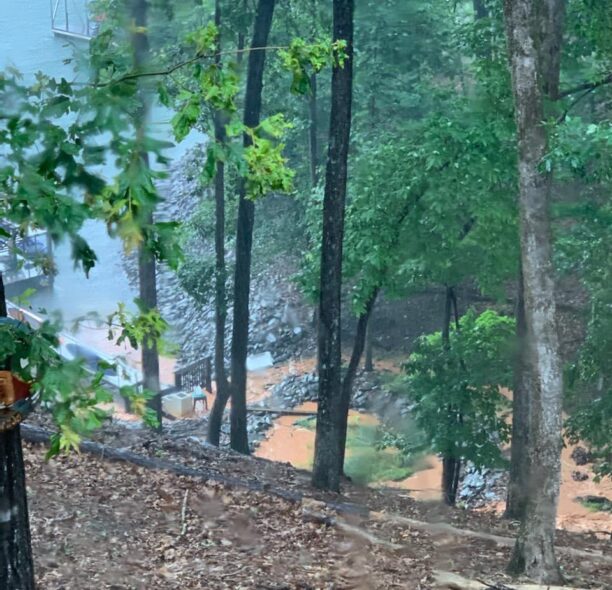 Effective Regulations
Without proper protective regulations in place, land disturbance activities, or construction projects, will continue to put sediment into Lake Lanier. Statewide erosion and sedimentation regulations set the minimum standards that a site has to meet. These standards include silt fences and other best management practices. However, these standards are set to be applicable across the state. Various soil types, topography and local natural resources often require additional protections.
Lake Lanier brings 11.8 million people to the area annually and provides drinking water to 4 million Georgians. Lake Lanier's Watershed is an area that is too valuable to the region to allow for continued degradation from construction site sediment.
Faced with a possible relaxation of Erosion and Sedimentation Ordinance standards in Hall County, LLA stepped up and worked with County staff, Hall County Commissioners and representatives from the development community to create new protections on construction sites in Hall County. The regulations that were adopted are ones that can be replicated and provide protections throughout the Lake Lanier Watershed.
Enforcement
Even the most well written ordinances are not effective if they are not enforced. Erosion and sedimentation enforcement starts with the proper review of site plans, moves into the field when the ground is disturbed and ends when the final stabilization of the site has occurred. These enforcement responsibilities can fall on one or two different departments in area jurisdictions and a breakdown of enforcement can happen at any step.
If you see an erosion and sedimentation issue please contact the appropriate jurisdiction. As local issuing authorities, it is the local jurisdiction's responsibility to ensure issues are corrected and followed up on within a timely manner.
Hall County Erosion and Sediment Hotline: 770-533-7420
The hotline can be used for any jurisdiction in Hall County. 
Forsyth County: 770-781-2165
City of Cumming: 770-781-2024
Gwinnett County: 678.518.6000
City of Buford: 770-945-6761
Lumpkin County: (706) 864-6894
Issues with GaDOT projects: Contact EPD
Specific Issue Support
Over the years, Lake Lanier Association has been able to help with various erosion and sedimentation issues. Please report your problem to the local jurisdiction first, then report a problem to LLA. The best way to get action around a site is through the watchful eyes of those around the project. If you see an issue, be sure to report it as soon as it becomes a problem.