Get to Know Caitlin Mincey of Mincey Marble Manufacturing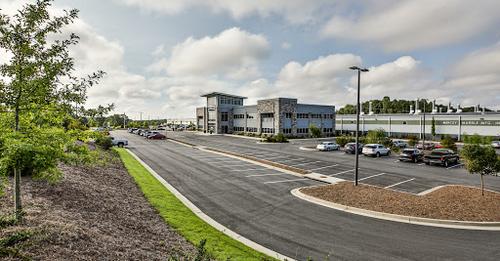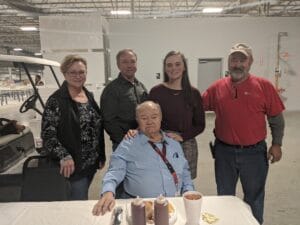 Growing up, Caitlin Mincey was adamant that she wouldn't work for the family business – Mincey Marble. In trying to avoid fate, she studied Political Communications at Emerson University in Boston and after graduation, spent time living in Egypt and teaching internationally. Caitlin was away from Georgia for a total of 7 years before having a change of heart, prompted by the passing of her grandmother.
These unfortunate events have a way of reminding us of what's important in life, allowing us to reevaluate our priorities and redirect as needed. That is just what Caitlin did. Four years ago, she returned to North Georgia and joined the team at Mincey Marble. Originally working in Order Management and now as the Sales Manager. Though it wasn't her first choice initially, Caitlin has come to love being a part of the family business and has Mincey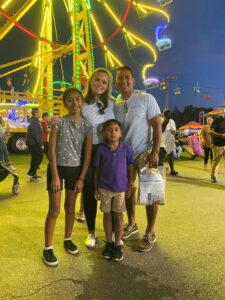 Marble to thank for her newfound career successes, as well as meeting the love of her life and two beautiful step children. Caitlin loves working alongside her mother and having the opportunity to help grow the business and carry out her grandfather's legacy in the company and community.
Caitlin grew up creating family memories on Lake Lanier and remembers participating in Shore Sweep at a young age. Her grandfather lived on the lake before it was the norm. At that time, many families just spent weekends on the lake, but her family called it their full-time home. Today her uncles still call the lake their backyard. This makes the Lake Lanier Association a natural fit for Business Sponsorship and Mincey Marble has proudly supported the efforts of LLA over the years.
An Industry Leader in Cast Marble
Established in 1977, Mincey Marble is the recognized leader in cast marble shower and tub panel systems, shower pans and accessories for the hospitality, multi-family, student housing and senior living commercial markets. Our company is founded on personal referrals, superior customer service and a commitment to produce the highest-quality products possible. Mincey's cast marble items are manufactured in the USA, allowing us to offer an exceptional level of quality control and service unmatched in the industry. Our proprietary compound of ground marble and industrial-strength resin results in long-lasting products that provide the look of tile or stone without the maintenance and sanitary issues associated with grout. In addition to cast marble products, we sell a wide array of glass shower doors, available in an assortment of styles and finishes, designed to elevate any bathroom decor.
Upon purchasing 87 acres at Gainesville Business Park, located just a few miles from our original manufacturing facility, Mincey meticulously designed the 380,000-square-foot office and production facility that we are proud to call our home. Careful consideration and planning have gone into streamlining efficiency and productivity in all departments, including research and design, mold-making, manufacturing, crating, shipping and administration. Our onsite showroom highlights the custom work and unique designs that are even more stunning up close and personal, providing an opportunity to visualize and interact with products and finishes before making a final decision. It is our pride in innovative design, combined with a strong focus on quality and service, that sets Mincey Marble apart from the oft-imported imitations now on the market. We look forward to continuing our growth and surpassing our commercial clients' expectations.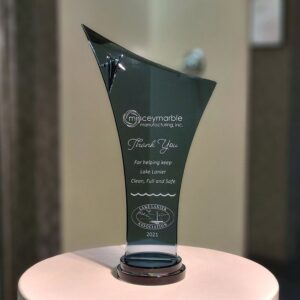 LLA recently recognized Mincey Marble Manufacturing for their support as a Partner level Business Member. Here's what Mincey Marble Manufacturing had to say about the award on their Facebook and Instagram:
"It's a MAJOR AWARD! We think the "Old Man" would agree, this gleaming crystal work of art deserves a place in Mincey Marble's front window. Thanks, to the Lake Lanier Association! We appreciate your letting us be a part of your tireless efforts to keep Lake Lanier CLEAN, FULL & SAFE!" 
Please visit www.minceymarble.com for more information and cast marble solutions.