John Barker Retires from LLA Presidency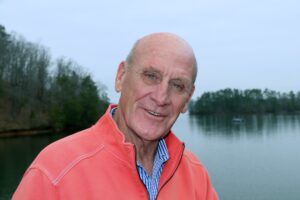 John Barker Retires from LLA Presidency
As of May 2022, John Barker has elected to retire from the Presidency of the Lake Lanier Association. John served on the LLA Board of Directors since 2015 and at the helm as President since 2019.
Under John's leadership, the Lake Lanier Association has experienced considerable growth, implemented new and meaningful programs, as well as made impactful improvements to existing on-lake initiatives.
To note a few: John had a passion for seeing abandoned docks and vessels removed from Lake Lanier. It's this effort that brought John to LLA and with his guidance, the ADDV program grew into what it is today. John led the organization as we started the Life Jacket Loaner Station program. Beginning with four stations in Forsyth County and as of the 2022 season, the addition of four new stations in the City of Gainesville and Hall County. Through his guidance, LLA has revamped the Solar Light program and implemented a maintenance process which better ensures the highest possible number of lights are functioning at all times. During John's Presidency, LLA set new records for Shore Sweep, the annual lake clean-up. In 2021, a record of 85+ tons of trash was removed from Lake Lanier at the hands of over 1,200 volunteers. John had a contagious ability to get things done – which led LLA to great success.
John had a desire to see the Lake Lanier Association become a household name to those in the Lanier community and with his leadership, LLA has increased presence on the lake and built upon strong relationships with the U.S. Army Corps of Engineers, Georgia Department of Natural Resources and local municipalities, including city and county governments. John helped establish broader reach within State Government constituents as well. Finally, the support and involvement of LLA membership saw much growth in John's time as president. Today, the LLA's membership is stronger than ever, both Personal and Business Membership continue to grow substantially as we all work together to keep Lake Lanier Clean, Full and Safe.
The impact John had in moving forward the mission of the Lake Lanier Association – to ensure a Clean, Full and Safe Lake Lanier – will endure and be felt for years to come. Please join the Lake Lanier Association in thanking John for his steadfast service and his contributions to our collective success. The LLA wishes him well as he dedicates more time to family and friends in retirement.
We'll see you on the water, John!