Lake Lanier Association is seeking applications for a Communications and Membership Coordinator.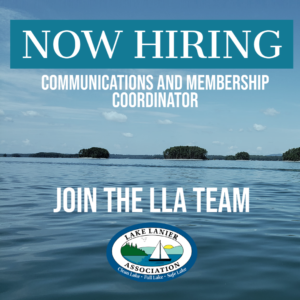 Lake Lanier Association is currently hiring. This newly created position is an exciting opportunity to join LLA's team in a position that will help expand LLA's communications, presence and membership outreach. The Communications and Membership Coordinator will be directly managed by the Executive Director and will work closely with the LLA Board of Directors, volunteers and members.
LLA is seeking an individual with a unique skill set to create an effective membership experience through the membership retention, renewal and recruitment process and through the ability to create effective marketing and communication materials.
A PDF of the full job description can be viewed here.
Applications are currently being accepted. Apply by sending your cover letter and resume to [email protected]. For additional questions, call the Lake Lanier Association office at 770-503-7757.