Julie King Joins the LLA Team as Membership Coordinator
The Lake Lanier Association is expanding and growing in many ways this year!
In our most recent newsletter, the Lanier Outlook, we shared plans and progress on the new office space. As the Annual Member Celebration approaches, we're preparing for many more exciting announcements that we've had up our sleeves. (If you missed it, check out the Winter/Spring 2023 Lanier Outlook on our site here.) In that light, we're excited to share that the LLA team is growing!
To better serve our members and enhance collaboration, the Lake Lanier Association is excited to welcome Julie King as our Membership Coordinator.
With the addition of Julie, this will split the responsibilities previously assigned to Victoria Clevenger. She has been on staff with LLA as the Communications and Membership Coordinator since Feb. 2021. Victoria remains on the LLA team with a renewed focus on our communications, social media and marketing as the Communications Coordinator. We are poised for success in all areas and excited to reach new heights with this collective team!
For those of you who stopped by the Lake Lanier Boat Show in early March, we hope you had the pleasure of meeting Julie at the LLA booth. If you haven't met her yet – we hope you will take the time to say hello and introduce yourselves at the Annual Member Celebration on April 22nd.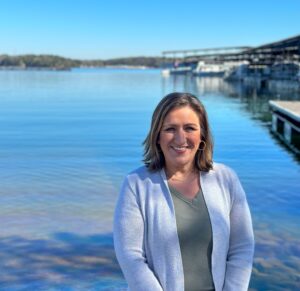 MEET JULIE 
Julie holds a Bachelor of Science degree from Johnson & Wales University in Charleston, SC where she majored in Sports, Entertainment and Events Management. She started her career at Kiawah Island Golf Resort in 2006 and has worked for Marriott, Hilton, W and Lanier Islands Lodge. She comes to the LLA team with over 15 years of event and customer relations experience, which will be valuable in creating engaging social opportunities for the LLA community and assist in our efforts towards recruitment and retention of members. Her industry experience will contribute to elevating all of the initiatives set forth in the association.
When Julie isn't planning events, she enjoys cooking meals for her family and friends, walking outside on beautiful days and spending time on Lanier with her husband and two boys.
To Contact Julie, please email [email protected] or call (404)956-2906. Please join us in welcoming Julie to the LLA Team! Look for a post on the LLA Facebook and Instagram to leave your welcome notes.