Know the Ropes: Buying or Selling a Used Boat
This "Know the Ropes" Article is from the Wrap-Up to Summer 2022 Newsletter
Written By and Photos Provided By Amy McGuire LLA Executive Director
Ahoy! As we approach the end of the summer season, many boaters begin to reflect and evaluate their current vessel. Very often, boaters choose to sell their boat this time of year to avoid storage fees, winterization protocols and other associated expenses that continue through the off-season. If you find yourself asking whether it's time to upgrade, downsize or embark on a new boating persuasion continue reading to learn how you can maximize the return on your current vessel.
Hopefully you've maintained your boat all along and kept records and receipts to document repairs, replacements, and scheduled maintenance. If you haven't, it's never too late to start. Create a file to keep records, manuals, receipts, and other documents in one place. When it's time to sell, or trade, this documentation will help maximize the value of your boat. In turn, this can act as a springboard to your next boat.
When selling or trading a used boat, two key elements are going to be evaluated by the dealer or potential buyer – aesthetics and mechanics.
It's important to ensure your vessel is looking its very best when it's time to sell. Before listing your boat, or negotiating a trade, take the time to buff out any oxidation and add a fresh coat of wax. Once you've addressed the exterior of the boat, turn your attention to the interior. Clean seats, carpets, storage bays, and cupholders. Treat the seats, gunnels and any other vinyl-covered areas with a UV protectant and moisturizer. Next, focus on the engine compartment. Use a degreaser to clean the engine and a specialized cleaner to clean the bilge area which can develop buildup from lake water, mildew, engine exhaust, etc. When you rinse, it will also clear the pipe, or hose, that leads to your drain plug.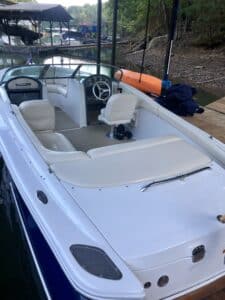 If your boat is on a trailer, ensure it's clean and roadworthy. Replace worn tires, check bearings, and brake pads and lines if your trailer has them. If you're selling your boat on your own, you want to make sure the buyer can take it with them!
Once you've ensured that your boat is looking and running it's best, it's time to sell or trade. Take your time here and decide which method works best for you. In some cases, trades make sense. In others, a private sale will yield the highest return. If you're looking for a reputable dealer in the area, visit www.lakelanier.org/our-sponsors/ to find local options that support the mission of the LLA!
If you're planning to sell the boat yourself, keep reading.
When listing a boat, a thoughtful, well-informed ad featuring lots of pictures will reduce phone calls with questions and increase phone calls from potential buyers. Pictures are important and can often communicate what words can't. The adage, "a picture is worth a thousand words", is very true when selling a boat yourself.
A thoughtful ad contains pictures, photographed in adequate lighting or an inspiring setting, that demonstrate the boat's layout and overall condition. This is your time to brag a little about all that work you did leading up to this point! In your ad, include information such as the year, make and model of the boat. In addition to the basics, you can expand to include as much information as possible. List the number of hours on the engine(s), engine specs, major repairs with dates, sound system details, after-market features and other details to help buyers gain trust in the boat—and you, the seller. Don't forget to list any equipment that will be included with the boat or negotiated separately.
Back to the pictures. Despite all the information you've listed, interested buyers are going to study the pictures. Go ahead and make it easy for them. Start with wide shots of the boat to give potential buyers an image of the boat's overall layout and condition. Once you've captured the audience's attention, zoom in a little closer on the gauge cluster, hour meter, stereo, seats, storage areas, unique features, insignias, and other equipment. If the boat has a bimini, or custom cover, be sure to include pictures with the cover; for the bimini, you'll want to include pictures with it up and stowed in its dedicated compartment (if applicable). You can also include pictures of any equipment that will be included with the boat. This can include fish or depth finders, skis, wakeboards, surf boards, tubes, life vests, etc.
If the boat has any areas of damage, photograph those with either a ruler or coin to demonstrate the size of the damaged area. Sometimes it's hard to get an idea of how significant damage is without something to demonstrate scale. Lastly, include pictures of the (clean!) engine compartment to reveal how well the boat has been maintained and attention to detail that's been given.
Additionally, understand your boat, it's current value and price it accordingly. Determine your bottom line on the boat and factor any incentives for buyers to purchase this time of year. Incentives could include storage, winterization after the sea trial, or any other expense associated with the purchase of a new or pre-owned boat.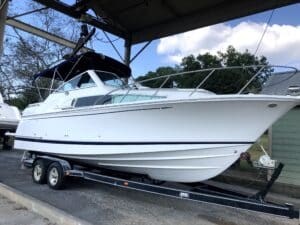 Finally, once you've added your pictures and included as many details as possible, decide on your contact method. If you can only answer inquires after a certain time of day, include that information to manage buyer expectations. Make sure your contact information is correct — a single typo can be the difference between a quick sale and crickets. It's also a good idea to have a second set of eyes proofread your ad before you post it.
By this point, you may have invested several hours or days into prepping your boat for sale and creating the ad. When you are ready to post, use sites you frequent yourself. Facebook Marketplace and Craigslist are popular choices for private sellers. You can expand your posts to include a larger geographic area as well.
If you stayed with me to this point, whether you sell your boat on your own, or trade it at one of our sponsor dealerships, I wish you the best!
I am confident that your boat will yield the highest return and you'll be ready to cruise into your next adventure with confidence. You may even fall in love with your next boat at the upcoming in-the-water boat show at Lake Lanier Islands that's happening October 14-16, so it's a good idea to just have your boat ready to sell or trade "just in case."
At the end of the day, boats are an investment in friends and family. At the very crux, it's important to maintain your vessel to protect the priceless cargo it's carrying, but also to yield top dollar when "foot disease" kicks in and you're ready for a new adventure on our beautiful lake!