Dispose of Your Dock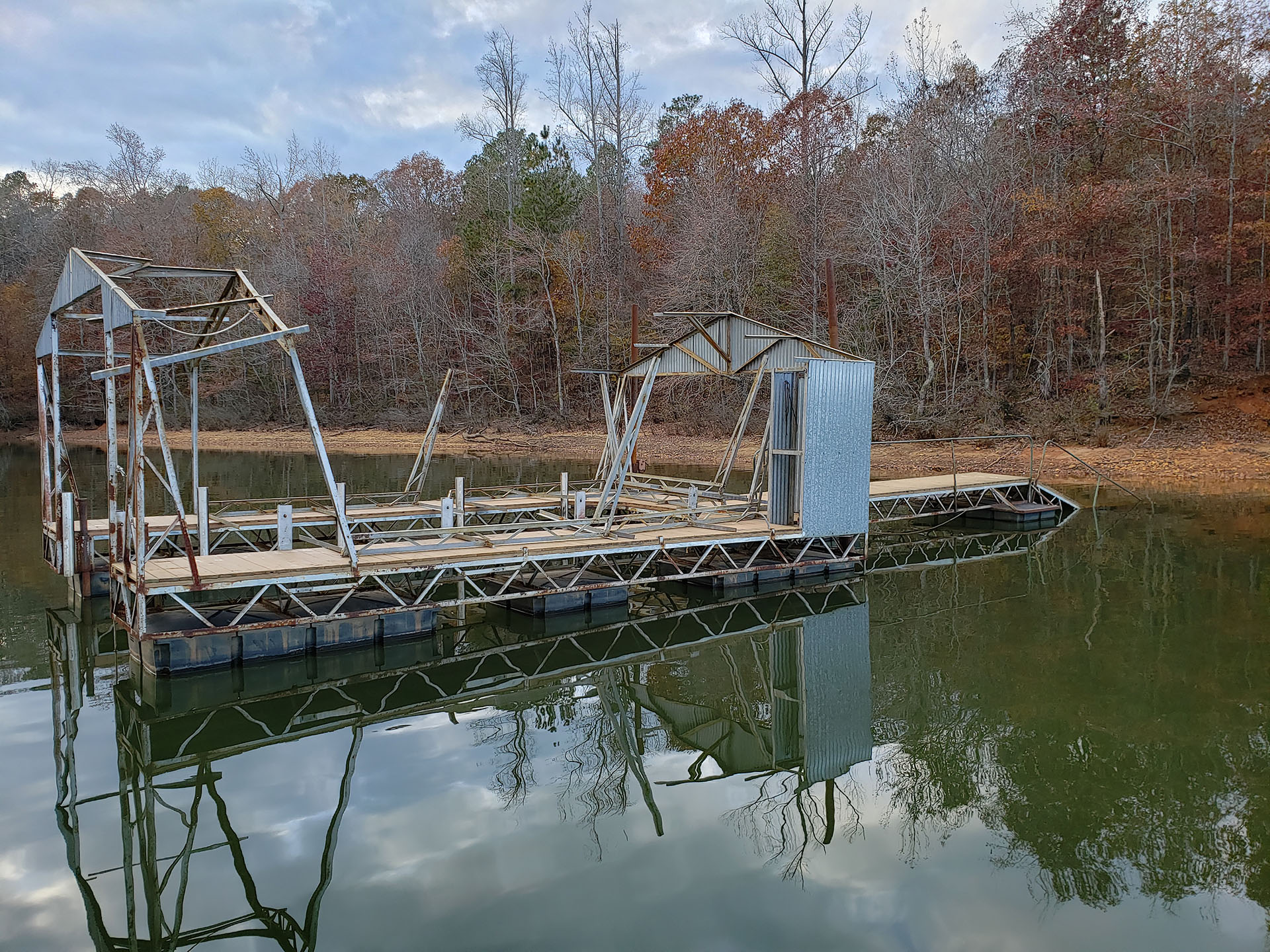 There are 10,615 dock permits for Lake Lanier. Because the lake was first completed in 1958, many of these docks have now reached or exceeded their useful lives. Dock companies around the lake are building new docks every day. So, when an owner gets a new dock, what happens to the old one? That's the issue. Most of these docks are dealt with responsibly. They are either being sold as used, or being properly dismantled and removed from the lake. But, many are not. Unscrupulous individuals are using the anonymity provided by the vastness of the lake to transport these docks to remote locations where they are dumped and become a safety hazard, a source of debris and an eye sore. To aid owners needing to dispose of a dock properly, LLA would like to provide some recommended practices.
If you are wishing to sell or give away your dock for use, we recommend the following:
Note: Even if you give it away on Facebook or other venues, please follow these steps. Help ensure that your dock does not become part of the problem. Numerous docks are being stripped and dumped around the lake.

Take thorough and comprehensive pictures of your dock from all angles, capturing its unique features.
Once a buyer is located, get their identifying information. Use a bill of sale that requires them to provide their full name, address, telephone number and dock permit number. In addition, know what information you will need for step 3. Take a photograph of their driver's license to verify their information.
The U.S. Army Corps of Engineers (USACE) has a form that is required for the transfer of ownership of a dock. Ensure you obtain and complete it. Make sure the buyer knows you are completing that form. It requires the buyer's dock permit number. Get that number so you can show where your dock went after the sale.
Get the physical address where your old dock will be going. On a nice, sunny day, ride by that location and verify that your dock arrived at its new home.
Report to the USACE or the LLA any irregularities in the above that give you concern that your dock did not reach its intended destination and may be abandoned elsewhere on the lake.
Keep a copy of all the sale or transfer paperwork for your records in case the USACE asks for proof that the sale of your dock was handled properly.
If you are going to pay someone to dismantle your dock, these are the recommended practices to ensure that the contractor does so responsibly:
Take thorough and comprehensive pictures of your dock from all angles, capturing its unique features.
Use bright colored paint to mark the dock clearly. Mark it so that the markings are visible from a significant distance away. Paint vertical poles with bright orange or pink paint. If the dock is seen crossing the lake, passersby will recognize it as a dock intended to be demolished.
Obtain and fill out the Corps of Engineers Dock Transfer Form.
Use a reputable contractor with a clearly marked work boat.
Have the contractor provide you ALL of the following documentation:

Clear receipt listing the disposal for your documentation and files.
Pictures of your dock being transported by their boat across the lake.
 The location where the dock will be dismantled.
Pictures showing your recognizable dock being dismantled and being placed in a trash receptacle, such as a dumpster.
Receipts that your dock has been delivered to an appropriate waste disposal facility, such as a landfill.

Keep a copy of your photos and documents in case the USACE asks for proof that your old dock has been disposed of properly.
The above practices are very important for the preservation and protection of our lake. At some point in the future, it is possible your old dock may show up abandoned on the lake. If that occurs, this information can be used to locate and identify the responsible party. Additionally, these steps will cover you and ensure your dock is transferred or disposed of properly.