Request for Proposals / Call for Bids: Internal Renovations at LLA's New Office Space
General Contracting Services: Internal Renovations at LLA's New Office Space
2023 marks a brand-new era for the Lake Lanier Association (LLA). For the first time since our inception in 1966, the LLA will have a physical presence in the community. For the last 25+ years, the Association has operated, administratively, in two small offices located in the North Georgia Community Foundation building.
With over 12 million visitors each year, and Lake Lanier's growing popularity, our work has become more important than ever before. The establishment of a communal space will afford the opportunity to host ongoing meetings and activities that will position us to continue our work well into the future.
We invite you to review this proposal and hope you'll join us in creating a professional, high energy atmosphere that will energize, inspire and engage all who enter. It is our goal to create a modern, comfortable and inviting space that will immerse our guests, constituents and benefactors in the work we do for Lake Lanier and its surrounding communities.
We know what it takes to keep Lake Lanier clean, full and safe; but we are relying on your professional experience and expertise to help us realize our vision for this new facility. If you decide to submit a proposal, we encourage you to take full creative license.
Additionally, we will not enter this new space quietly! The grand opening will be comprised of a series of events and surrounded by healthy doses of media attention. This is your opportunity to showcase your company's skills and passion for the community. We encourage you to embrace the spotlight!
Interested in submitting a bid? Please contact Amy McGuire for the Full Proposal Details at [email protected]!
Project Objectives – The project objective includes completing renovations to the recently obtained rental space located at 821 Dawsonville Hwy, Suite 110 in The Village Shoppes of Gainesville shopping center. This lower level, interior facing unit is currently uninhabitable under the current condition. This project does not contain any exterior projects. The following interior projects must be completed on or before May 1, 2023 unless dates are otherwise agreed upon.
Prep Space for Construction- Remove Trash, Debris, Window Film, Drop Ceiling Frame
Sheetrock Patch and/or Repair
Prepare and Paint Exposed Ceiling for an Industrial Look
Lighting Installation
Current Cabinetry Demolition and Removal
New Cabinet Construction
Closet Interior Wall Demolition and Removal
Reset and Expand Closet Door
Construct and/or Install New Cabinetry (Caterer's Kitchen, Water Testing Station)
Flooring Including Tile, Carpet, and/or Hard Surface Flooring
Electrical Outlet Placement
Plumbing Placement for New Sink, Additional Bathroom (Cost Permitting)
Plumbing Fixture Installation
Water Bottle Filling Station Installation
Soundproof Panel Installation (TBD)
Other Repairs and Tasks Needed to Ready Space for Occupancy
Glass Door Installation-Podcast Studio
Any and All Repairs Necessary to Gain Certificate of Occupancy
Submission Deadlines and Delivery Details: 
All submissions for responding to this request must be submitted on paper and delivered to our office, as stated below, no later than:
Friday, March 3, 2023. No later than 5:00pm EST.
The primary delivery address for all submissions is:
Amy McGuire
Executive Director
Lake Lanier Association
Cell: (678)935-8446
Email: [email protected]
Submission Questions and Clarifications? Please contact Amy McGuire, Executive Director, at [email protected] 
Photos of LLA's New Office Space, Pre-Renovation: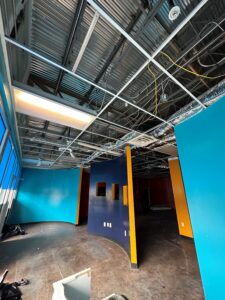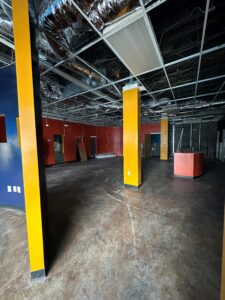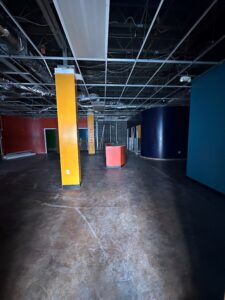 Please Note – Full Proposal Details Must Be Obtained By Contacting Amy McGuire at [email protected]