Lu Treadway, 2023 Charlie Spencer Award Recipient
By Victoria Clevenger, Communications Coordinator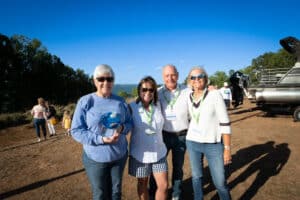 The LLA would like to congratulate Lu Treadway on receiving the inaugural Charlie Spencer Award! At the 2023 Annual Member Celebration, LLA presented a volunteer of the year accolade named in honor of the beloved Charlie Spencer, who passed away earlier this year. You can learn more about the life and impact of Charlie Spencer in our recent post, Remembering Charlie Spencer, online here.
Lu Treadway was recognized for her dedication and service to LLA, but ultimately to Lake Lanier. Lu has been an outstanding volunteer for many years, helping with Shore Sweep and mini-cleanups, boat shows, stuffing envelopes, sorting t-shirts and everything in between. She has helped "Captain" Shore Sweep sites and train new Captains, as well as teach the process of wrangling dock floats for removal during the cleanups. To the LLA, Lu has always been just a phone call away. Often times, she's already showed up and rolled up her sleeves to help however she can.
Many people talk about the work that needs to be done – Lu actually does it. Her efforts make a lasting impact on the Lanier community, much like the life of Charlie Spencer. The LLA believes Charlie would be so proud to see Lu honored in his memory. They both have facilitated and inspired change around the lake we love.
Photo Details: Lu Treadway (far left), Amy McGuire, LLA Excutive Director, and family members of Charlie Spencer. Photo courtesy of Lexie Phaneuf. 
Introducing the Charlie Spencer Award
We've talked quite a bit about the changes coming to the Lake Lanier Association in 2023. One of those changes was to implement a 'Volunteer of the Year' award. But, considering Charlie's passing and the void he leaves behind, we've decided to honor Charlie by renaming the accolade The Charlie Spencer Award. Our hope is that each year when we present this award, it will serve as a reminder to embrace adventure, lend a hand when possible and live each day to it's fullest.
The inaugural award was presented at the 2023 Annual Member Celebration on April 22nd at Peachtree Pointe, at Lanier Islands. Charlie's mom and dad, Chuck and Mary Alice, along with his Uncle Jim, attendanded the event and helped the LLA present the award to Lu Treadway.