Remembering Charlie Spencer
By Amy McGuire
Extracted from the Winter / Spring 2023 Lanier Outlook – LLA Quarterly Newsletter Publication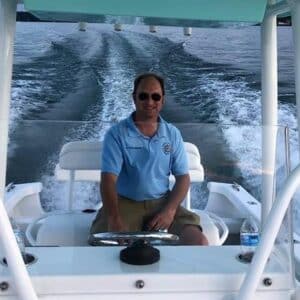 One would think a lake which hosts 12+ million visitors each year would make it hard to know everyone. And to be fair, few people do. However, there was one gentleman who made his rounds on this lake and made a friend out of every stranger. He made friends out of clients and clients out of friends. Charlie Spencer was a guy of average height, but his personality and passion for the water, was larger than life itself.
The world said goodbye to Charlie Spencer on February 21st. Many know Charlie because of his work as an insurance agent for Spencer Insurance. If you bought a new boat, or a new to you boat, Charlie would work with you, anytime of the day or night, to get you insured. He was tireless in his pursuit to protect the boating community. Even though his services ranged from homeowners to business and healthcare, Charlie had a penchant for insuring boats. After he quoted your policy, he'd make you a friend if you weren't already.
Charlie was also wildly passionate about Lake Lanier. He explored every inch of it fishing, cruising, and hanging out with friends. He also never shied away from a challenge and stepped right in to lend a hand. This was evident in his many contributions to the Lake Lanier Association. He was there for Shore Sweeps, member celebrations and so much more. He's a large part of some of our fondest memories. He even was the first to call when we acquired Miss Jackie, LLA's first official vessel.
He was everything you wanted in a boater, an insurance agent, and a friend. He cared about the rules, always played it safe, and always made sure those around him were safe as well. He could educate you on the rules of navigation and you'd never know you'd been to school. Though his knowledge, skills, and experiences were expansive, Charlie was never one to boast. While many spend time talking about going on adventures, Charlie went. We could all stand to take a lesson from him.
I guess you could say that Charlie was an excellent manager of his time. Although he was only granted 40 years on this earth, Charlie lived life to the fullest. He managed to build a reputation of loyalty and integrity through his business, embark on too many adventures to count and lend a hand to not one, but two, communities. Even as Charlie fought a hard battle with cancer, he was energized by service to his peers.
Following his treatments, he'd rest a bit and get right back to work helping his neighbors in the other place he called home – St. James City, Florida. Hurricane Ian hit about the same time Charlie was going through his own storm, but it didn't slow him down.
Right through until the end, Charlie was never worried about helping himself. He worried about everyone else. He did his best to ease the pain of his passing for friends and family. His final requests were to spare the flowers and instead contribute to his church, Pine Island Community Church, and the Lake Lanier Association. Our staff and board of directors feel quite honored that such a prominent member of the lake community would make such a generous request.
Introducing the Charlie Spencer Award
We've talked quite a bit about the changes coming to the Lake Lanier Association. One of those changes was to implement a 'Volunteer of the Year' award. But, considering Charlie's passing and the void he leaves behind, we've decided to honor Charlie by renaming the accolade The Charlie Spencer Award. Our hope is that each year when we present this award, it will serve as a reminder to embrace adventure, lend a hand when possible and live each day to it's fullest.
We hope you'll join us on April 22nd at our Annual Member Celebration as we present this inaugural award to another special member of the lake community. Charlie's mom and dad, Chuck and Mary Alice, along with his Uncle Jim and others will be in attendance. They are looking forward to seeing many familiar faces and joining us for this special occasion and beginning of a new tradition for the LLA. If you'd like to join us at the Annual Member Celebration, please secure your tickets and learn more about the event online here.
"Smell the sea and feel the sky. Let your soul and spirit fly."
— Van Morrison, Irish Singer-Songwriter