Lake Society – New Lakeside Development Breaks Ground
Written by Clyde Morris LLA Vice President – Legal Counsel, Erosion and Sedimentation
Article extracted from the Wrap-Up to Summer 2022 Newsletter
Lake Society will be a new, 211-acre subdivision located primarily on Ahaluna Drive off Dawsonville Highway in Gainesville. Originally proposed more than five years ago, the plans now call for 723 new residences, including 373 single-family detached homes and 350 assisted living, memory care, independent living, and duplex cottage units. Plans also call for a 40,000-square-foot self-storage facility for boats and recreational vehicles, and two community docks, one with 38 slips and the other with 92 slips. It will be developed in three phases, with the first single-family homes potentially being available in 2023.
Because of its size and location on what was previously a largely undeveloped peninsula in Lake Lanier, the Association's primary concern is the potential for runoff and sedimentation, especially during the land-clearing and construction phases. Once the development is complete, the additional hardscape (streets, roofs, sidewalks) could be expected to increase runoff compared to the natural forest environment that existed there previously. However, the engineering plans call for runoff capture and storage systems mitigating increased stormwater flows from the site. There are also systems to treat any stormwater runoff, which will help contain any trash or sediment during and after construction.
The addition of 130 boat slips – and possibly many more boats in self-storage – will likely mean an increase in boat traffic on the northern portion of the lake above Lanier Bridge (next to Gainesville Marina). One other concern that has been voiced is the increase in vehicle traffic on Dawsonville Highway, which was slated years ago for improvements in the area around its intersection with McEver Road but which has yet to materialize.
The Association has reviewed the latest plans for the development, has monitored the land clearing and erosion and sedimentation ("E&S") control work to date, and has been in communication with the developer, the civil design firm, and the grading contractor already working on the project. We are collaborating with Chattahoochee Riverkeeper (CRK) in these activities, and while we have raised several E&S technical issues, we have not seen any erosion or sedimentation affecting the lake as of the time this article was written.
In the long term, we hope that the development will be a model of responsible design and execution for environmental protection. The design of the post-construction stormwater control system is ambitious and is intended to cause a large portion of stormwater to percolate down into the soil throughout the development rather than being channeled directly into the lake. Our hopes are high that the design will function well toward that goal, and we are hopeful that the developer will incorporate additional soft-scaping and pervious materials – as well as minimize lawn areas that typically encourage the proliferation of fertilizer and water usage – in a 21st-century model of responsible lakeside stewardship.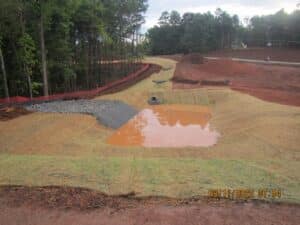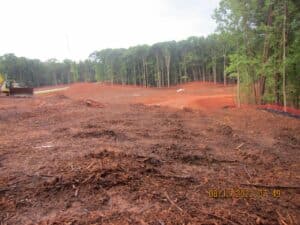 Photos taken from Ahaluna Dr. in Gainesville, GA and submitted by an LLA member.