LLA's New Membership Platform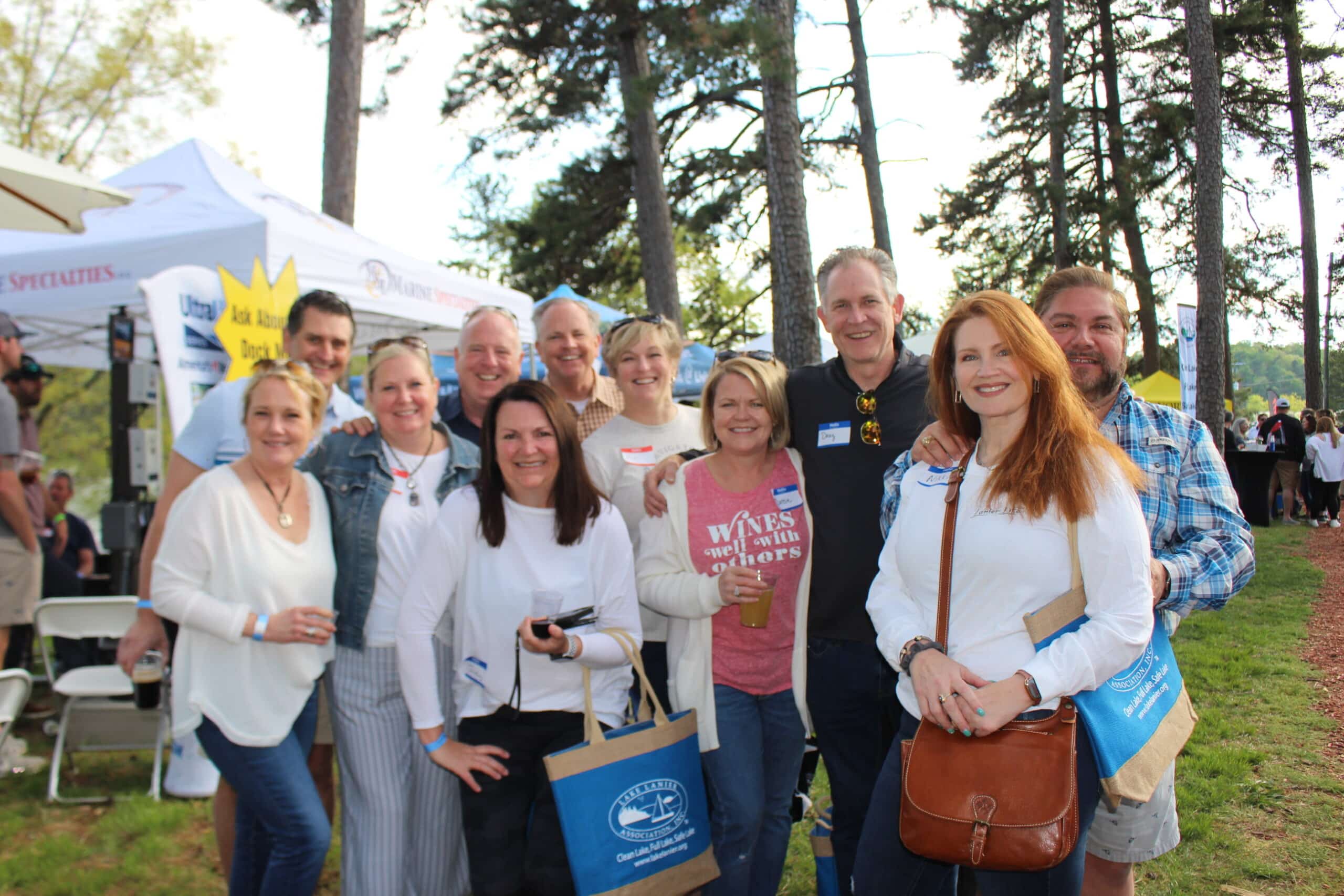 By Victoria Clevenger, LLA Communication Coordinator
Extracted from the Winter / Spring 2023 Lanier Outlook – LLA Quarterly Newsletter Publication
The Lake Lanier Association recently launched a new membership platform! With this new system, each LLA member has access to their own membership portal. Using the membership portal, you can login at any time to see the status of your membership, change your membership level or update payment preferences.
For the first time ever, we're able to offer this portal experience to our members and while it is exciting, we understand that it's new and different – thus creating a learning curve. We want to help you navigate the changes and understand how they work for your benefit, so we have put together helpful information to know about your membership and the new membership portal!
What's Different About It?
In addition to offering a membership portal, LLA memberships will now operate a lot like your favorite subscription service and affiliated account.
Just like watching your favorite show on Netflix, you can support the LLA without wondering if or when your membership is up for renewal. You'll simply set up an account and add a card to file for auto-renew payments. Each year, 30 days before your renewal date, you'll receive an email reminder notifying you of the upcoming renewal transaction. (See Right for Email Example.) You'll also receive an email notification 48 before your membership expires and additional emails if your membership becomes past due or expired. We hope that this set of communication gives members ample time to renew, update their payment preferences or make any necessary changes to their account.
What If I Don't Like Auto-Renew?
No problem! We will still accept membership renewal and payment via check. The LLA is moving towards the membership portal and an auto-renew process to alleviate administrative headaches. Additionally, we hope it will be easy for our members to continue supporting us year over year.
Renew By Check!
If you prefer to renew your LLA membership by check, please send your check to the LLA Office at: 821 Dawsonville HWY, Suite 110 Gainesville, GA 30501. Please allow two weeks for processing time after your check has been received.
What Can I Do In The Portal?
Using the membership portal, you have the ability to login at any time to see the following information:
Status of Your Membership –

Can't remember when your membership is up for renewal? Now you can

login to see when the membership renewal will occur, without having to wait for an email reminder.

Change Your Membership Level –

At any point, you have control to change the level of your membership!

This makes moving up and down between levels easier than ever.

Update Payment Preferences –

This allows you to add or change the card on file,

download transaction receipts and more.
In the future, the LLA can also use the portal to provide member exclusive information – such as articles, videos or links. While we are not using this feature yet, we're excited about the endless possibilities of sharing information exclusively with our members.
Ready to Join the LLA or Renew Your LLA Membership?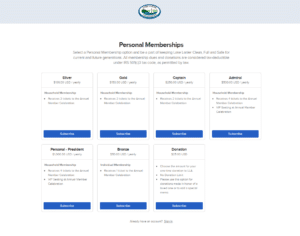 To renew your membership, please visit

https://members.lakelanier.org/join

and select

the contribution level at which you'd like to support the LLA.

(See Below Right for Landing Page Screenshot.)

If you are renewing, you may be prompted to sign-in. This is because our new system recognizes that at some point, you've already had an LLA membership and it just needs to be renewed!

For the password, please use the email that you receive LLA Membership Renewal notices to. Don't know which email is on-file? No worries. Please email LLA at

[email protected]

and we can help!

Once logged in, you'll need to add a card to file to renew – this is because we're using a new system / payment processor. If you've previously been on auto-renew, credit card records were not shared from the old system to the new system. If you do not like to be on auto-renew, your payment can be removed from your account after payment is processed or you may renew by check.
Recent Membership Changes
LLA recently changed the $50 Bronze Membership to an Individual Membership. We received a lot of feedback on this change and wanted to provide more insight on why we made a change and how you can still support the LLA at whatever membership level works for you.
In order for donations to the LLA to remain tax-deductible, members can only receive a small percentage of benefits in exchange for their contribution. This brings us to member benefits and exclusive LLA community events, like the Annual Member Celebration.
While we are happy to welcome all guests to the event, this has some repercussions that the LLA is navigating differently this year. In the past, we've run into the scenario where members bring additional guests and this drives up the cost per person. Which then means a large percentage, if not all, of their contribution is going towards their attendance to the event. Thus the reason to clarify that the $50 Bronze membership only allows for 1 person to attend the Annual Member Celebration. We have identified ticket count for events with each membership level we offer and will offer an additional ticket option.
While we love to be able to offer fun and exciting opportunities to bring the LLA community together, we also have to keep our initiatives and programs the main focus. Which means still supporting those efforts from the contributions we receive. As much as we love to throw our members a party, it's not the main mission of the LLA.
It's no secret that times are tough. Inflation has impacted everyone and most are counting their pennies – or saving them. As a non-profit, we are not excluded from rising operating costs and expenses. Solar Lights cost more this year than last. Same can be said for other program equipment and materials. While everyone is feeling the stretch on their wallets, we certainly don't like to add to that burden and raise costs for our members. LLA has been fortunate to not need to raise the cost of membership dues in over 15 years! We hope this new change in cost of memberships will be the last for many more years to come. In the meantime, we have hope that our members will understand and still choose to support the LLA however they can.
We will still offer additional tickets for purchase to the Annual Member Celebration, but by identifying the number of tickets associated with each membership level, we hoped to take out some of the guess work for our members. Please see below for more information on the Annual Member Celebration tickets.
Annual Member Celebration Tickets Per Membership Level:
Bronze $50 – 1 Ticket
Silver $100 – 2 Ticket
Gold $150 – 2 Tickets
Captain $250 – 4 Tickets
Admiral $500 – 4 Tickets, VIP Seating
President $1,000 – 4 Tickets, VIP Seating
Additional tickets will be available for purchase, for a $10 donation per ticket beyond the allotted amount included with your membership.
Still Have Questions?

Let us know!
Send us an email at [email protected] or call us at (770) 503-7757.
We are here to help and as always, appreciate the ongoing support of our members. We can't do it without YOU! Thank you for supporting a Clean, Full and Safe Lake Lanier!